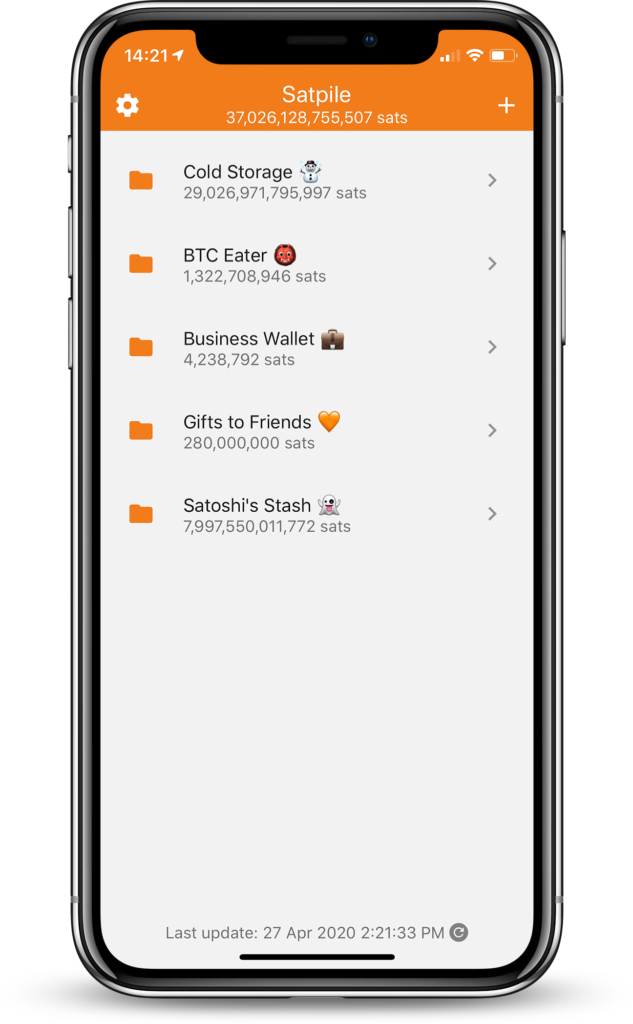 Hello, I'm Satpile, a humble Bitcoin (BTC) address tracker and balance viewer app. Built for bitcoiners by bitcoiners.
Satpile lets you remotely and safely track the balance of Bitcoin addresses you need to keep an eye on, for example your hardware wallets, paper wallets, gifts, exchanges, etc.
—
Free
Satpile is a free open-source app offering full access to as many wallet addresses as you want. Satpile is really free, this means no need to create an account, and no ads!
Convenient
When automatic-buying ("Dollar Cost Averaging"), you can get new sats sent directly to your safely hidden hardware wallet, then verify the bookmarked address in Satpile app. Get push notifications when address sees movements.
Versatile
Works with any address you fancy, including those you don't own. Ideal to check your paper wallets gifts to friends, your exchange cold storage, charity donations… XPUB addresses also supported!
Clear
Satpile allows you to conveniently organise and tag many addresses into folders with subtotals. Addresses are organised in folders with sub-totals so you can add yours and others' without confusion.
Satpile is sats-friendly: Balances are displayed in satoshis (ⓢ) as standard unit.
N.B. 1 BTC = 100,000,000 sats
—
Key features:
Track as many Bitcoin addresses as needed;
Multiple folders structure for better clarity;
Displays total and subtotals balances;
Custom name for each address & folder;
Supporting P2PKH (1…), P2SH (3…), Bech32 (bc1…);
Import wallet X/Y/ZPUB with derivation path;
Passphrase, Touch ID / Face ID support;
Verification on external Blockchain explorer;
Choice of default Blockchain explorer;
Built-in QR scanner to add new addresses;
Easily share addresses and QR codes;
See balances in satoshis (ⓢ).
Coming soon:
More OpSec features;
TOR support;
Direct connection to user's full node;
And more…
Easily Verify balance on external browserS :
mempool.space
blockchair.com
blockstream.info
tradeblock.com
blockcypher.com
blockchain.coin
smartbit.com.au
blockexplorer.com
btc.com
(user's full node and more coming soon!)
ⓢ Stay humble, #StackSats.